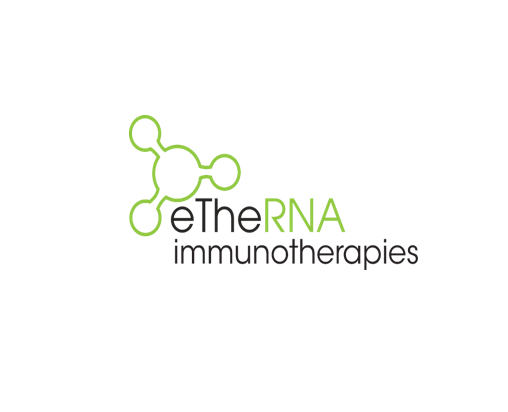 Collaboration in development of a combination therapy in Metastatic Melanoma
eTheRNA immunotherapies NV and IAG Collaborate to Facilitate the Clinical Development of a Combination Therapy in Patients with Metastatic Melanoma.
Niel, Belgium and London, UK July 01, 2019
eTheRNA immunotherapies NV, a clinical-stage Belgian company developing mRNA based immunotherapies for the treatment of cancer and IAG, a bio-pharma expert imaging company announced today a a collaboration aimed at facilitating the clinical evaluation of immuno-therapies based on eTheRNA's proprietary mRNA-based TriMix platform with the use of IAG's cloud based software DYNAMIKA.
eTheRNA is developing the mRNA-based immunotherapy ECI-006, which is a combination of TriMix (three mRNAs encoding dendritic cell maturation and activation proteins),  and mRNAs coding for 5 tumor-associated antigens. The primary objective of the product is to elicit an immune response against metastatic tumors.
IAG will leverage its proprietary software platform Dynamika for central imaging data logistics and analysis to facilitate the clinical development and standardize image assessment including RECIST 1.1 and iRECIST.
The use of innovative imaging data management and analysis platform DYNAMIKA will enable the partners to ensure that all imaging data is of high-quality as well as maintain control over trial progress.
Dr. Diana Roettger, Head of Therapeutic Innovation at IAG commented:
"Well-known image assessment issues in solid tumor clinical trials such as inter- and intra-reader reproducibility will be addressed through optimized workflows and increased transparency to quantitatively measure the treatment response in a fast turnaround."
"Having clear and reliable early efficacy signals in our clinical program, which IAG is uniquely positioned to provide, can be a game-changer, particularly for immunotherapies like ECI-006," stated Dr. Bertil Lindmark, CMO at eTheRNA, "Our work with IAG's imaging expert team will help us better understand how ECI-006's mechanism of action can affect the tumor development and, ultimately, support our goal of getting the right treatment to the right patients at the right time."
About eTheRNA immunotherapies NV
eTheRNA immunotherapies NV is a clinical-stage company delivering innovative cancer immunotherapies from its proprietary mRNA-based TriMix platform. eTheRNA's goal is to commercialise these immunotherapies to deliver long lasting clinical remission to cancer patients. eTheRNA was established in January 2013 as a spin-off from the VUB university in Belgium and is backed by international life science investors. www.etherna.be
About TriMix
The TriMix platform, on which eTheRNA's immunotherapies NV are based, comprises three mRNAs encoding proteins (caTLR4, CD40L and CD70) that work synergistically to deliver optimal activation of dendritic cells. These cells behave as immune response mediators and mobilize the immune system to attack cancer cells through inducing a T-cell response. Clinical proof of concept for TriMix-based immunotherapies has been established through an extensive dataset demonstrating clear clinical benefits in advanced melanoma patients.
About IAG
IAG, Image Analysis Group is a unique clinical development partner to life sciences companies. We broadly leverage our proprietary image analysis methodologies, power of our cloud platform DYNAMIKA, years of experience in AI and Machine Learning as well as bespoke co-development business models to ensure higher probability for promising therapeutics to reach the patients. Our independent Bio-Partnering division fuses risk-sharing business models and agile culture to accelerate novel drug development, www.ia-grp.com .