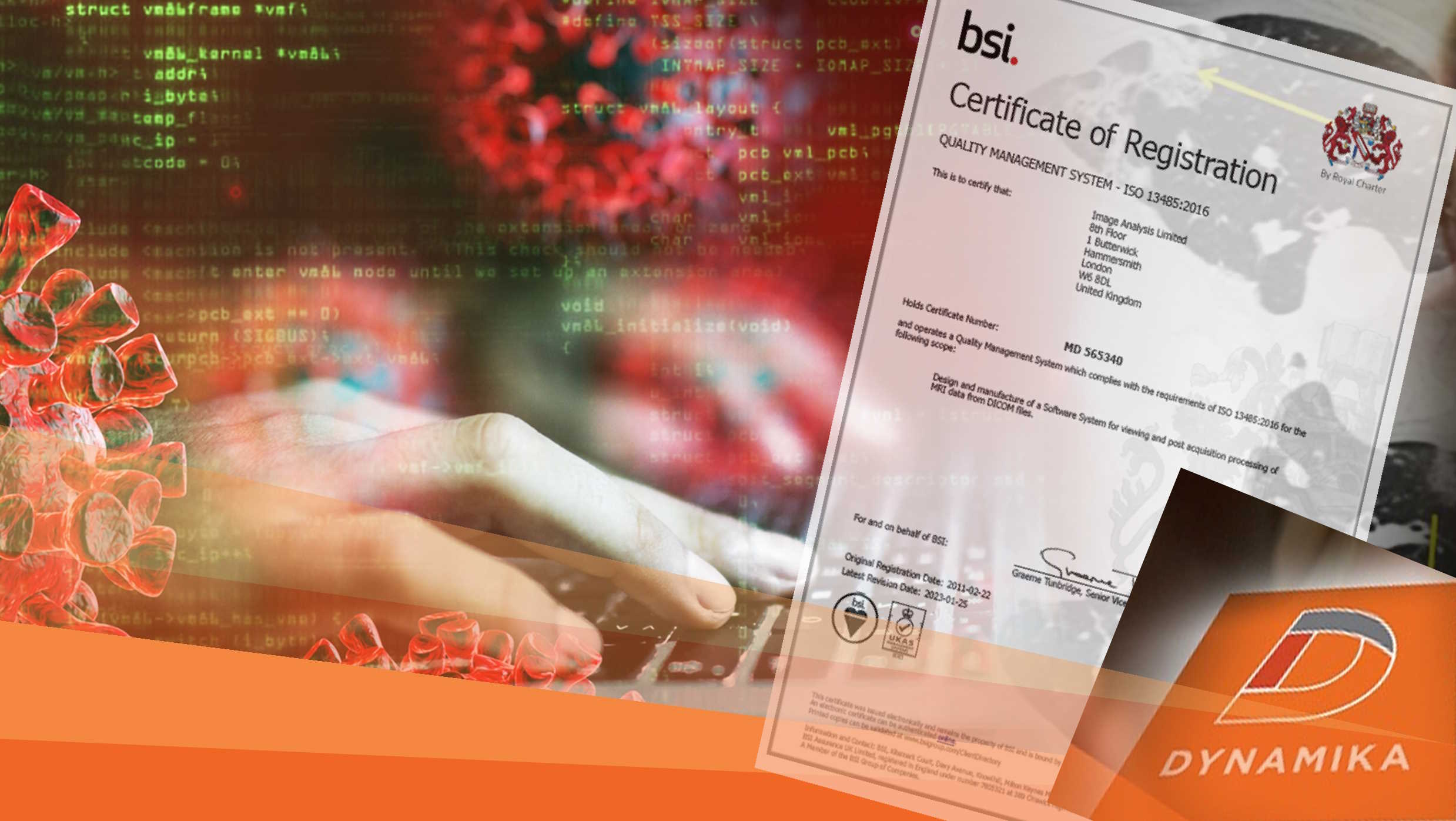 Congrats to IAG on BSI ISO13485 re-certification for DYNAMIKA!
Congrats to IAG on BSI ISO13485 re-certification for DYNAMIKA!
Congratulations to IAG's technical and quality teams for holding successful audit meetings with British Standards Institute (BSI) and receiving ISO13485 re-certification.
'Maintenance of the highest technical standards is paramount to our company's DNA!' said Prof. Dehmeshki, Chief Technology Officer.

'At IAG, we work to bring both CFR21 part 11 and ISO13485 quality standards into our day-to-day service and technology development, thus providing our clients with highest possible level of quality,' said Max Feltham, IAG's Quality Manager.
IAG's DYNAMIKA platform is a unique comprehensible software for robust imaging data management in multi-centre trial setting and central review. Uniquely in the clinical research services industry, this is one software system to control trial progress, conduct central reads and, when needed, use built-in AI for earlier read-outs and decision support.
Use of DYNAMIKA, compliant to the industry's highest quality certification as an integral  part of our CFR21 part 11 clinical trial process, enables IAG teams to deliver high quality results, even when managing complex clinical trials that require use of advanced imaging, technical solutions and Artificial Intelligence.
Moreover, having ISO13485 certification enables IAG to develop and release into clinical use novel methodologies, such as our AI-powered histology tool or the newest endpoint for scleroderma DAVIX.
'IAG brings artificial intelligence in a meaningful way to the imaging process. This is the future of imaging – drives down cost and improves quality of analysis.  As images are used more for statistically meaningful endpoints, IAG has proven, validated, AI algorithms. The IAG platform and service model fits exactly with pharma efforts to be digital organizations, allowing seamless data ingestion capabilities and real time data access for analysis and decision making.', said Dr. Olga Kubassova, IAG's CEO.
Congratulations to the team, who will continue following ISO13485 and 21 CFR Part 11 and proceed with powering the best of pharmaceutical development, from phase 1-4!
Read more: DYNAMIKA, drugdevelopment, clinicaltrials, medicaldevice, MRI, CT, X-ray, PET, immunoPET, SPECT, US, histology, and fluoroscopy, imaging,
Read more about IAG's expertise in Your Therapeutic Area.
Reach our to imaging.experts@ia-grp.com
About IAG, Image Analysis Group
IAG, Image Analysis Group is a unique partner to life sciences companies. IAG leverages expertise in medical imaging and the power of Dynamika™ – our proprietary cloud-based platform, to de-risk clinical development and deliver lifesaving therapies into the hands of patients much sooner.
The use of novel image analysis methodologies will allow the partners to address complex issues such as pseudo-progression and quantitatively measure the treatment response, thus deploying a truly precision medicine approach to accurately monitor patient outcomes.
IAG provides early drug efficacy assessments, smart patient recruitment and predictive analysis of advanced treatment manifestations, thus lowering investment risk and accelerating study outcomes. IAG bio-partnering takes a broader view on asset development bringing R&D solutions, operational breadth, radiological expertise via risk-sharing financing and partnering models.
Learn more:  www.ia-grp.com
Reach out: imaging.experts@ia-grp.com
Follow the Company: Linkedin
About ISO
ISO 13485, Medical devices — Quality management systems — Requirements for regulatory purposes, is the International Standard for quality management systems for the medical devices sector. Published in 2016, it is designed to work with other management systems in a way that is efficient and transparent. The standard, which is now in its third edition, received strong support from the FDA, in line with its drive for global convergence of medical device regulatory processes.
The announcement by the FDA that it will use ISO 13485 in replacing its current quality system regulation, is an important next step in the recognition this standard has already gained globally.