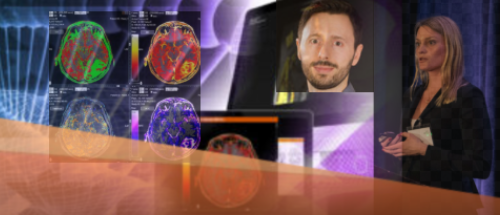 Novel Imaging Approaches for Precision Medicine in Neuro-Oncology
Novel Imaging Approaches for Precision Medicine in Neuro-Oncology
Non-invasive methods are needed to enhance our understanding of complex neuro–pathologies. Novel imaging strategies can advance neurology and neuro–oncology clinical trials by providing deep analysis of disease progression and treatment response.
Join our live webinar – " Novel Imaging Approaches for Precision Medicine in Neuro-Oncology" – jointly presented by Prof. Sotirios Bisdas, IAG's Senior Director, Oncology and Neurological Disease Imaging and Dr. Diana Dupont-Roettger, IAG's Chief Scientific Alliance Officer.
Key discussions points:
Current challenges and unmet needs for neuro-oncology imaging

Novel neuro-imaging strategies in clinical trials

A novel paradigm in decision-making

: Radiological Phenotyping, True Progression vs. Pseudo-Progression
The session will begin with the joint presentation and will then be followed by a live Q&A to give the audience a chance to gain insight into their own development programs.
Date: Thursday, 14 May 2020

Time: 11 am EST / 4 pm GMT

Register here !
About the Webinar:
This webinar is organized by IAG, Image Analysis Group, a strategic partner to bio-pharmaceutical companies developing new treatments to improve patients' lives. IAG broadly leverages its core imaging expertise, proprietary technology platform DYNAMIKA and capabilities to support an objective early go no/ go decision and drive excellence for tomorrow's innovative therapeutic agents with speed. We fuse decades of therapeutic insights, risk-sharing business model and agile culture to accelerate novel drug development. www.ia-grp.com
Prof. Sotirios Bisdas is a consultant neuroradiologist and MRI Lead in the Department of Neuroradiology at the National Hospital for Neurology in London, Senior Lecturer in Neuroradiology at the Institute of Neurology University College London, and Professor of Radiology at Eberhard Karls University in Tübingen, Germany. He has authored over 130 peer-reviewed publications and serves as member of the editorial board of several leading journals in Radiology and Neuroradiology. He is also reviewer for leading journals in Neuroimaging, member of the Executive Committee of the European Society of Head and Neck Radiology, and member of the Head and Neck committee of the European Society of Neuroradiology.
Dr. Diana Dupont-Roettger is a Medical Computer Scientist by background with strong experience in novel imaging technologies and imaging markers and their role in clinical trials. She advises biopharmaceutical companies on the strategic use of advanced imaging to evaluate mechanism of action, enable precision medicine and accelerate drug development in immuno-oncology and neuro-oncology indications. Diana is actively working with biotech, pharma and investment funds helping to bridge the gap between academic research, business objectives and finances.
Questions or need help registering, please email <imaging.experts@ia-grp.com>