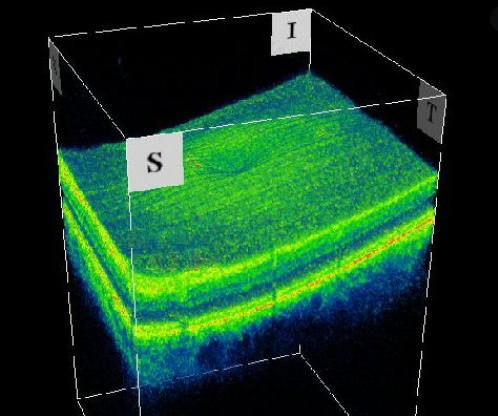 OPHTALMOLOGY
Imaging Considerations in Ophtalmology
Diseases related to the human eye range widely based on their localization within the eye. There are eye diseases that are widely prevalent in the population and are manageable (such as macular degeneration and glaucoma), and those that are rare and exceedingly difficult to treat (such as inherited retinal diseases). 
There is a range of highly specialized tests to assess the structural status of the eye that help us detect and monitor these diseases. The management of retinal diseases, such as macular degeneration and retinitis pigmentosa includes a variety of such tests, including ocular coherence tomography (OCT), which uses light waves to take cross-sectional pictures of the retina. Fundus autofluorescence (FAF) and near-infrared reflectance (NIR) provide a density map of lipofuscin and melanin, respectively in the retinal pigment epithelium. These tests are central to the clinical management of these conditions.
Glaucoma, on the other hand, is a common eye disease, and is in fact the most common preventable cause of blindness. It is characterized by an abnormally high intraocular pressure that threatens to damage the optic nerve. It is necessary to be screened with tonometry on routine optometric exams as it may otherwise progress silently and lead to irreversible vision loss. Imaging-based tests for glaucoma include optic nerve head imaging and gonioscopy.
There are several trials being designed and underway that evaluate the safety and efficacy of novel therapeutics for both glaucoma and retinal diseases. These tests, which are critical to the management of these conditions, also serve as primary/secondary endpoints for those trials. These studies need to be meticulously designed to robustly assess these assets for scientific merit, and to deliver safe and effective treatments that are rigorously assessed using these tests. 
At IAG, we are addressing the needs of these trials in the following way:
Provide ophthalmologists with high level of expertise in glaucoma and retinal diseases to evaluate/interpret the cases and provide input for drug development strategies.

Provide a network of state-of-the art trial sites and testing centers fully capable of executing ophthalmology trials.

Provide medical and computational expertise to evaluate structural and functional biomarkers to monitor these diseases.

Provide state-of-the-art clinical trials solutions that are nuanced and scientifically optimized.

Provide cloud-based infrastructure and software solutions as needed for data exchange between the testing center, trial site and the CRO.
Ophthalmology is an exciting therapeutic area in which the clinical trials need sophisticated solutions. IAG is positioned to meet these needs in cost-effective ways without compromising on benchmarks of scientific methodology and the operational quality.
Reach out to our expert team, as you are designing and planning your trial.
About IAG, Image Analysis Group
IAG, Image Analysis Group is a strategic partner to bio-pharmaceutical companies developing new treatments to improve patients' lives. Our dynamic Strategy, Trial Solutions and Bio-Partnering divisions work closely to meet critical needs of biotechnology companies: funding, clinical development, and monetization of their assets. We fuse decades of therapeutic insights, risk-sharing business model and agile culture to accelerate novel drug development. IAG broadly leverages its core imaging expertise, proprietary technology platform DYNAMIKA and capabilities to support an objective early go no/ go decision and drive excellence for tomorrow's innovative therapeutic agents with speed.
Contact our expert team: imaging.experts @ ia-grp.com
READ NEXT CASE STUDY >

Ocular Coherence Tomography (OCT)
Spectral-domain Optical Coherence Tomography (SD-OCT)
Fundus Autofluorescence (FAF)
Near-Infrared Fluorescence (NIR)
Since 2007, over 2000 articles were published to cover scientific discoveries, technology break-throughs and special cases. We list here some critically important papers and abstracts.

Combining our technologies and business advisory services with promising life science companies has yielded spectacular results over the past five years. As a trusted partner to many biotech and pharma companies, IAG's team is proud to share your words and quotes.