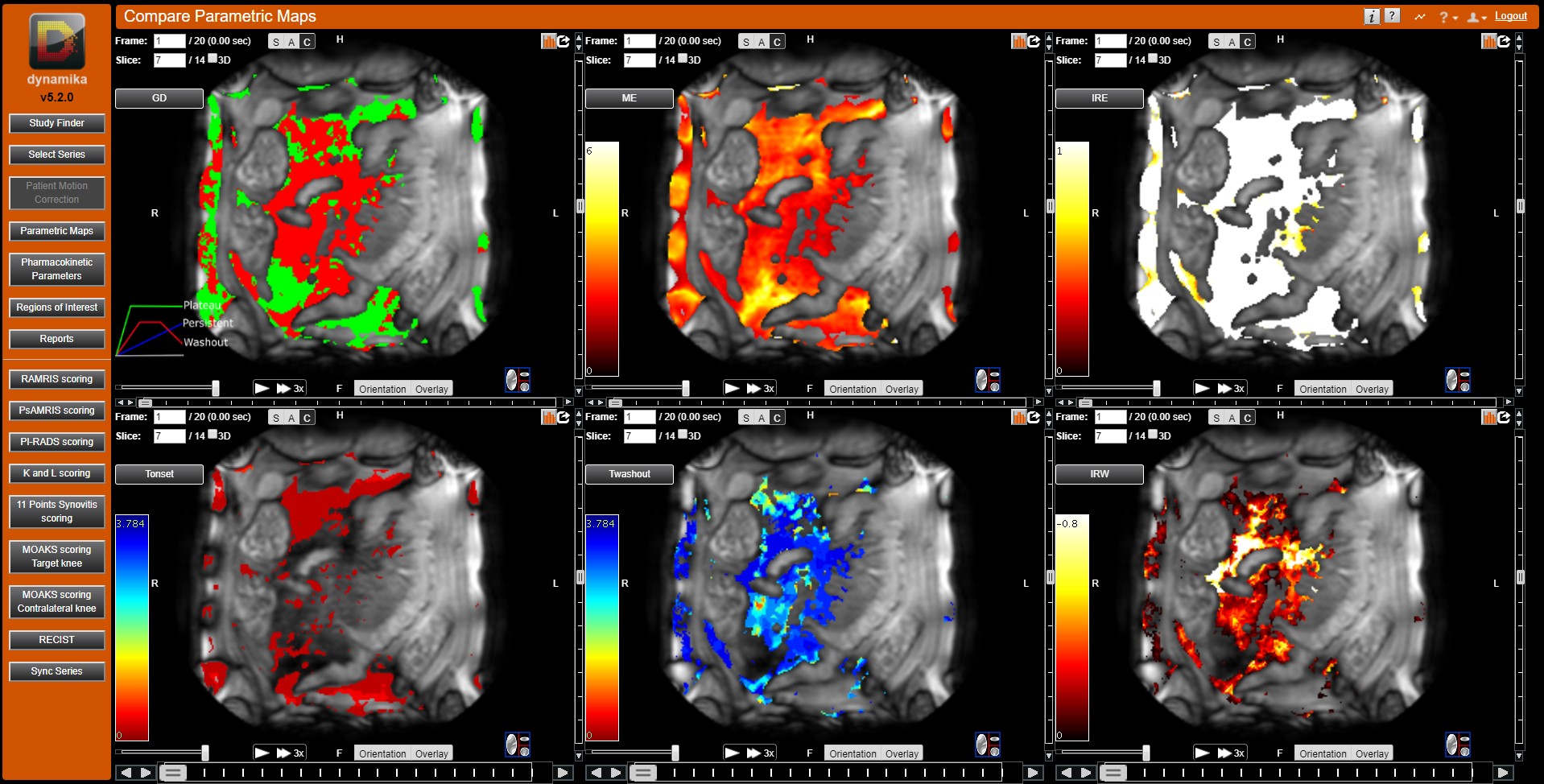 Crohn's Disease
Inflammatory bowel disease (IBD), especially Crohn's disease clinical  trials involve evaluation of the bowel, using medical imaging such as colonoscopy, MRI or CT. One of the many challenging aspects of Crohn's disease management is the variable nature of the disease course.
IAG's team specializes in use of radiological imaging (CT and MRI), that help to assess the portions of the small bowel that are inaccessible to optical endoscopic visualization.
Cross-sectional imaging techniques are being increasingly utilized for IBD evaluation because they can simultaneously assess mural and extramural IBD manifestations.
With the use of MRI and CT, we can support patient inclusion, help to assess and track progression of extra-intestinal IBD manifestations, visualize penetrating complications of disease that extend outside the bowel wall, and assess disease activity in patients with known IBD during symptomatic recurrence.
CT scanners allows high spatial resolution imaging of the entire abdomen and pelvis in just a few seconds, generating isotropic images that can be reconstructed in multiple planes to facilitate visualization of subtle abnormalities. CT scans are typically performed for IBD evaluation following administration of both oral and IV contrast to detect bowel wall abnormalities and abnormal enhancement.
Magnetic Resonance Elastography (MRE) is another useful minimally invasive, non-ionizing radiation diagnostic technique with the ability to obtain multiplanar diagnostic information about intra and extra mural involvement of the small bowel in IBD.
MRE combines large volume oral contrast bowel distention with T2-weighted, balanced steady state free precession, and multiphase T1-weighted fat suppressed contrast-enhanced sequences to optimize detection of bowel wall abnormalities. Today, collection of 3-dimensional (3D) data sets has become feasible within 10 to 15 seconds. These short acquisition times allow for data collection within a single breath-hold, which can be performed even in patients with respiratory compromise.
Our expert team will support the development of imaging strategy and selection of the trial endpoints. Once the trial is designed, IAG's team will select and train the sites, assist with imaging data collection and review.
Reach out to our expert team, as you are designing and planning your trial.
About IAG, Image Analysis Group
IAG, Image Analysis Group is a strategic partner to bio-pharmaceutical companies developing new treatments to improve patients' lives. Our dynamic Strategy, Trial Solutions and Bio-Partnering divisions work closely to meet critical needs of biotechnology companies: funding, clinical development, and monetization of their assets. We fuse decades of therapeutic insights, risk-sharing business model and agile culture to accelerate novel drug development. IAG broadly leverages its core imaging expertise, proprietary technology platform DYNAMIKA and capabilities to support an objective early go no/ go decision and drive excellence for tomorrow's innovative therapeutic agents with speed.
Contact our expert team: imaging.experts @ ia-grp.com
READ NEXT CASE STUDY >
Experience: Scoring Systems
Crohn disease MRI index (CDMI) score
Magnetic Resonance Index of Activity (MaRIA)
Crohn's disease activity score (CDAS)
Acute inflammation score (AIS)
The MRE global score (MEGS)
CT
MRI
Fluoroscopic imaging
MRE
DECT
DCE-MRI
DWI-MRI
MR magnetization transfer imaging
MR motility imaging
Ultrasound
Since 2007, over 2000 articles were published to cover scientific discoveries, technology break-throughs and special cases. We list here some critically important papers and abstracts.

Combining our technologies and business advisory services with promising life science companies has yielded spectacular results over the past five years. As a trusted partner to many biotech and pharma companies, IAG's team is proud to share your words and quotes.