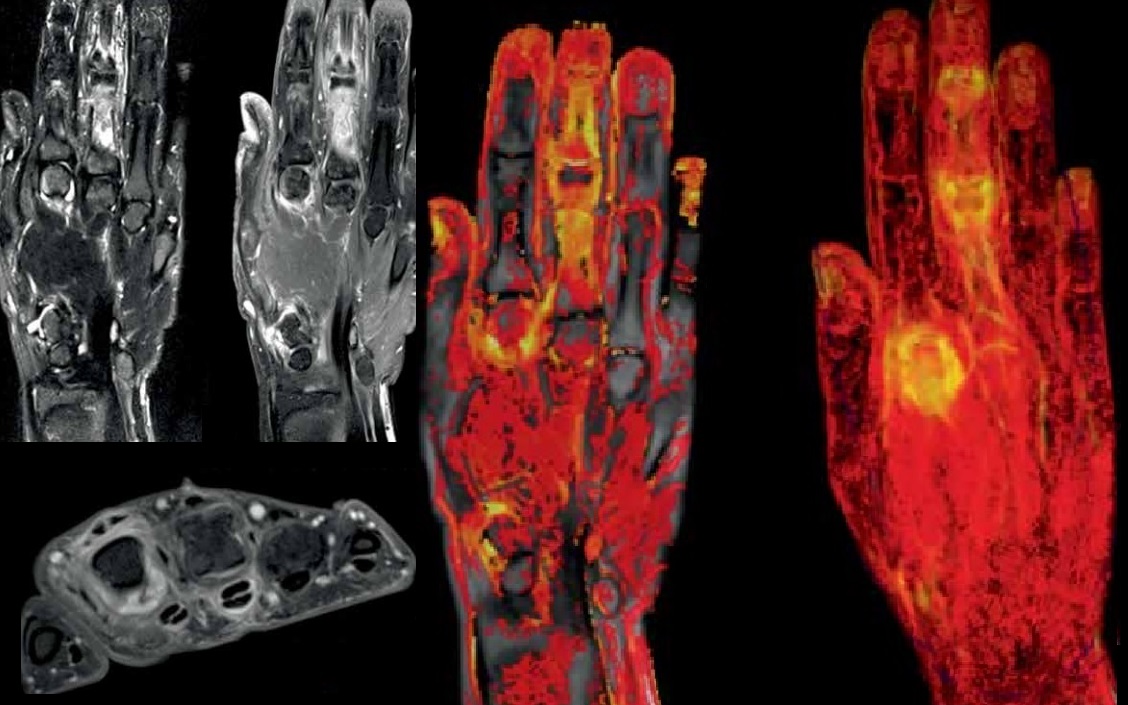 PSORIATIC ARTHRITIS
Psoriatic arthritis (PsA) is a heterogeneous inflammatory rheumatologic disorder characterized by peripheral arthritis, affecting 6% to 39% of patients suffering from psoriasis. PsA is classified as a seronegative spondyloarthropathy (SpA) because it shares certain features with other conditions included in that group. Indeed, spinal involvement has been reported in approximately 50% of patients with PsA. In addition, PsA is associated with enthesitis and dactylitis, which are extra-articular features common to SpA. Finally, the majority of patients with PsA are negative for the rheumatoid factor.
At the onset, the disease is typically oligoarticular, but can develop into asymmetrical polyarthritis. Merely 10% of patients present with articular and cutaneous changes simultaneously. In a half of patients, arthritis precedes psoriasis. In the initial stages of the disease, synovitis is usually observed in the knee, ankle, and metatarsophalangeal (MTP) joints and occurs in conjunction with dactylitis. Sternoclavicular joints are typically involved.
IAG's team has extensive expertise and track record in supporting the development of novel therapeutics in PsA and SpA and helping to take these drugs from early phase all the way to phase 3 and approval. Currently IAG is supporting one of the largest and scientifically driven trials (MOSAIC). Our expertise is in use of
to support disease diagnosis and assessment of treatment response.
IAG's team plays an active role in the scientific community and have led the development of novel scoring systems for early assessment of synovial inflammatory changes, quantification of inflammation and quantitative assessment of erosive changes.
Our extensive experience in using radiography, which is a conventional gold standard method for assessment of structural damage in spine and sacroiliac joints. We recommend and assure optimal use of Magnetic resonance Imaging (MRI) that has a number of advantages over plain radiography and ultrasound in assessing disease activity and damage in peripheral joints in PsA. MRI features of PsA include synovitis, dactylitis, tenosynovitis, erosions, bone edema and enthesitis. MRI and anatomic studies have helped researchers develop the concept of synovio-entheseal complex in the pathogenesis of PsA. IAG's scientific team is actively developing and integrating into the trials novel sequences, including
Ultrashort T2 echo for assessment of entheses will help in understanding the similarities and differences between mechanical and inflammatory entheseal changes.
Whole-body MRI (WB MRI), with OMERACT as part of novel clinical development.
Dynamic contract enhanced MRI for quantitative assessment of inflammation.
Quantitative assessment of erosions.
About IAG, Image Analysis Group
IAG, Image Analysis Group is a strategic partner to bio-pharmaceutical companies developing new treatments to improve patients' lives. Our dynamic Strategy, Trial Solutions and Bio-Partnering divisions work closely to meet critical needs of biotechnology companies: funding, clinical development, and monetization of their assets. We fuse decades of therapeutic insights, risk-sharing business model and agile culture to accelerate novel drug development. IAG broadly leverages its core imaging expertise, proprietary technology platform DYNAMIKA and capabilities to support an objective early go no/ go decision and drive excellence for tomorrow's innovative therapeutic agents with speed.
Contact our expert team: imaging.experts @ ia-grp.com
READ NEXT CASE STUDY >
Experience: Scoring Systems
Psoriatic Arthritis MRI Scoring (PsAMRIS)
DEMRIQ, DCE-MRI
Exploratory: WB-MRI
X-ray
Ultrasound
DCE-MRI
MRI
Since 2007, over 2000 articles were published to cover scientific discoveries, technology break-throughs and special cases. We list here some critically important papers and abstracts.

Combining our technologies and business advisory services with promising life science companies has yielded spectacular results over the past five years. As a trusted partner to many biotech and pharma companies, IAG's team is proud to share your words and quotes.